The CoreWorx's Restaurant: Our April Menu
Due to popular demand, the CoreWorx restaurant is open again. Those of you that know me will know I can talk about food for an eternity. So, I've created a little selection of my go to recipes for you to try out. I AM SO NICE!
(You still have to cook them though.)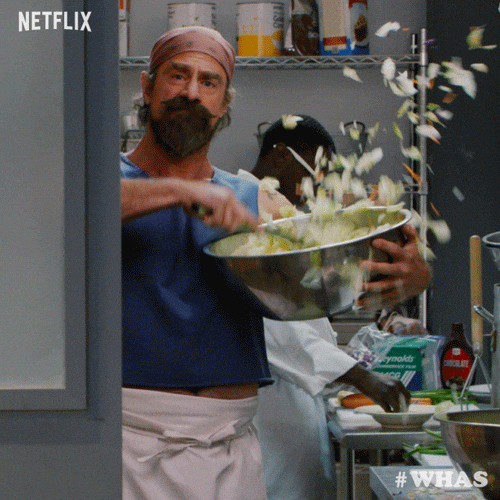 Whip Up and Go Breakfast:
Let's kick this off with breakfast that will keep you full. It's easy to whip up, cheap and flippin' tasty.
This will make about 4 portions but scale up and down as you need!
Ingredients You Will Need: 4 Cups Oats, 8 Cups Milk, 1 Cup Yogurt, 1 Tbsp Honey, 1 Carrot (grated), 1 tsp Desiccated Coconut, 1 Cup Raisins, 1tsp Cinnamon
Method: Literally chuck it all in a bowl or pot, don't worry if the milk looks like it's drowning everything, the oats will soak it up. Chuck a lid or cover on, pop in the fridge overnight. Add extra seasons and spices to your taste.
Weekend Brunch:
When you've got more time in a morning, why not treat yourself to a homemade brunch. This is fresh, super tasty and if you have left over tomato sauce, you can freeze and use it again or add to a bolognese.
This will make about 2 portions but scale up and down as you need!
Ingredients You Will Need: 4 eggs, tin of chopped tomatoes, tin of mixed beans, 2 cups of spinach, 1 onion, 3 garlic cloves, 1 tsp of tomato puree, 1/2 tsp garlic powder, 1/2 tsp dried chilli flakes, splash of Worchester sauce or marmite, salt and pepper
Method: Pre heat over to 200degrees. Sweat off the onion in a non stick pan, then add garlic and spices. Add the tomato puree and mixed beans and coat in the spices. Add the chopped tomatoes and mix. Meanwhile, boil a kettle and pop the spinach in a colander. Pour the boiling water over the spinach so it wilts. Add the spinach to the tomato sauce and stir. Pour the tomato sauce into an oven proof dish and crack the four eggs on top. Bake in the oven for about 10-15mins until your eggs are baked. Eat as is or add some crusty bread to soak it all up.
A "Keeps You Full And Not Bored" Lunch:
There are a million varieties you can go with this lunch. You literally need a toaster or grill, but if you don't have access to one where you work, chuck this in a wrap or pitta! Don't eat bread? Turn it into a salad, just grab your favourite salad leaves and add the avo, corn and cherry toms. If you're at work, take a spoon and fork to scoop and smash the avo. Corn can be prepped the night before. Avocado is full of healthy fats and fibre meaning you'll feel fuller for longer.
Makes 1 lunch
Ingredients You Will Need: 1 avocado, 2 slices of bread (any you prefer!), half a tin of sweetcorn, 4 cherry tomatoes, 1/2tsp paprika, salt and pep. (Optional to add boiled egg, chicken, lean ham, smoked salmon etc)
Method: Night before, mix the sweetcorn and paprika together and roast for 20-30 until crunchy. (You can also do this with chickpeas too!)
The day of, halve the cherry toms and pack it all up. Literally, toast bread, smash the avocado and add the cherry toms. Shove the avo on the toast and sprinkle over the toasted sweetcorn. BOOM. I add sriracha for some heat.
Prep The Night Before Lunch:
I'm veggie so I use "Beyond Mince" but you can use any you like. Its all about the spices in this one anyway! You can cook the kababs in batches and they'd be good for a couple of days in the fridge. Asparagus is coming into season so get it whilst its tasty. It has a tonne of nutrients in it plus its super low in cals.
Will make 8 little kababs
Ingredients You Will Need: One pack mince of your choice, 1/2 cup chopped red onion, 3 cloves garlic, 1tbsp natural yogurt, 1/2 lemon, 1bunch of fresh parsley, 1 tsp oregano, 1 tsp, dried chilli flakes, 1 tsp(s) vegetable oil, 4 pitta breads or flatbreads, 1 cup asparagus, 1/2 cup peas, 1/4pack feta
Method: Pre heat the oven 220degrees. For the kababs, mix the chopped red onion, mince, garlic, parsley, oregano and chilli flakes. Form into 8 kababs and pop in the oven for 15mins. Meanwhile, chop asparagus in half and pop in a steamer for 5mins or until soft. Chop the feta and boil the peas. Let the asparagus and peas cool before mixing with olive oil, salt pepper and feta. Add some fresh parsley if you like. Once the kababs are done, mix the natural yogurt and lemon (for an extra bit of flavour try sumac seasoning.) Assemble in the pitta however you like.
A Go To, Good For You, Easy Dinner
I think I make this curry at least three times a month. It's so quick, really delicious and it fights off colds like nothing else. Cauliflower is coming into season too and, by gum, you can do a lot with cauliflower. It absorbs spices so well which makes it banging in a curry. You can add meat to this if you like (chicken and chickpea for example) But I would HIGHLY recommend trying the cauliflower.
Makes around 4 portions
Ingredients You Will Need: 1 cauliflower, 1 tin chickpeas, 1/2tbsp Turmeric, 1/2tbsp cumin, 1tbsp paprika, 1 onion chopped, 3 cloves garlic, 3tsp tomato puree, 1/2tsp dried chilli flakes, 1tsp honey, 1 thumb sized piece of ginger grated, 1/2-1 tin coconut milk, 2 cups rice
Method: Preheat your oven to 220degrees. Chop up the cauliflower into bitesize chunks. Sprinkle the paprika over your cauliflower and add salt and pepper. Roast in the oven for around 15-20mins.
Prep your rice. WASH IT FIRST. Chuck your rice in a pot, add cold water and swill and pour out. Repeat until the water turns clear. Then cover your rice with cold water and measure by using your ring finger, the tip of your finger on the top of the rice and fill with cold water until it hits the first "line" on your finger. Turn up until boiling, then turn down and let it simmer till the water disappears. You have your rice.
Then you make your curry paste. You sweat off your onion, then add in the garlic, ginger and spices (cumin, turmeric, chilli flakes). Coat the onion and garlic in the spices and add in your tomato puree. Mix until it forms a clump. Add in your chickpeas and cover in the paste. Add in your coconut milk (depends how "thin" you like the curry. For a slightly thicker curry, add around half a tin, for a more thin saucy curry chuck it all in.) Add your honey and salt and pepper.
Once your cauliflower is roasted, add it into the sauce and coat. Add fresh coriander and rice. Eat. Yum yum.
Make any? Tag us in it and share your variations.
Talk to me about food anytime,
Laura